2017-2018
Theme: Environmental Justice
Upcoming L&E events:
Friday October 6th, 1-2.30pm. Welcome event & Research Snapshot Presentations.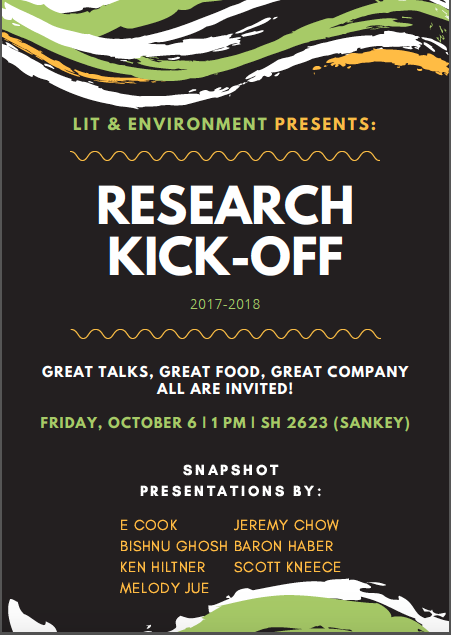 ---
Friday October 20th, 1pm. Nicole Seymour (Cal State Fullerton).
Nicole Seymour's first book, Strange Natures: Futurity, Empathy and the Queer Ecological Imagination, won the 2015 scholarly book award from the Association for the Study of Literature and Environment (ASLE). Her forthcoming book, Bad Environmentalism: Affect and Dissent in the Ecological Age (University of Minnesota Press), recuperates irreverent and anti-sentimental expressions of environmentalism.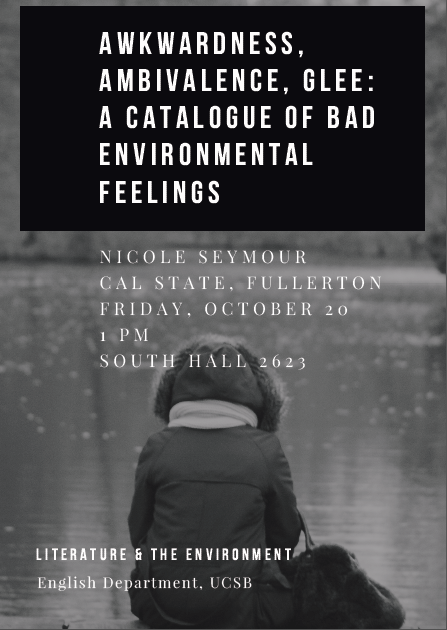 ---
Wednesday November 15th, 2pm. International Scholars Event.
Join us as we welcome two Swedish scholars–Fredrik Svensson (Karlstad University) & Daniel Helsing (Lund University)–whose work speaks to the ways in which ecocriticism and the environmental humanities are being conducted in Scandinavia.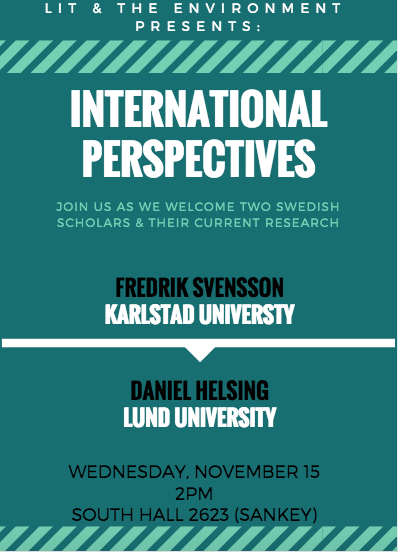 ---
Friday February 9th. Neel Ahuja (UC Santa Cruz).
Neel Ahuja's research explores the relationship of the body to the geopolitical and environmental contexts of colonial governance, warfare, and security. He is the author of the book Bioinsecurities: Disease Interventions, Empire, and the Government of Species (Duke UP) and has written a series of essays on the transnational politics of human-animal relations. He is currently working on a new writing project analyzing global relationships between migration, war, and climate change.
---
Wednesday April 4th. Christina Gerhardt (University of Hawai'i).
Christina Gerhardt is author of Screening the Red Army (Bloomsbury) and has a number of books in progress: Nature in Adorno; 1968 and West German Cinema; Atlas of Remote Islands and Rising Sea Levels; and Climate Change, Hawaii and the Pacific. Her research interests include European and German studies, critical theory, film and visual studies, history and representations of social movements, colonialism and post-colonial studies, and environmental studies and environmental humanities.